Cyclone is guided by sustainable development concept. We follow a green, low-carbon and innovative path. We aim to provide customers with green, high-quality and innovative products and services and build an environment friendly, economic friendly and social friendly responsible enterprise, so as to contribute to the country and society and create a model for ecological environmental protection and industrial development.
Economic Friendly
Our company is committed to building a closed-loop recycling industrial chain, expanding the industrial chain at both upstream and downstream ends, and promoting the agglomeration and upgrading of the new textile materials industry in our city, so as to form a driving effect of hundreds of billions of industrial clusters.
Social Friendly
Fight Against COVID-19
Donated money to the Red Cross Society and other charities and donated living materials and anti-epidemic materials to help the government fight against COVID-19 epidemic.
Public Welfare Activities
The company organizes employees to actively participate in public welfare activities such as student and teacher scholarship and fellowship, helping teachers and students living in poverty, planting tree, environmental protection activities and voluntary blood donation, etc.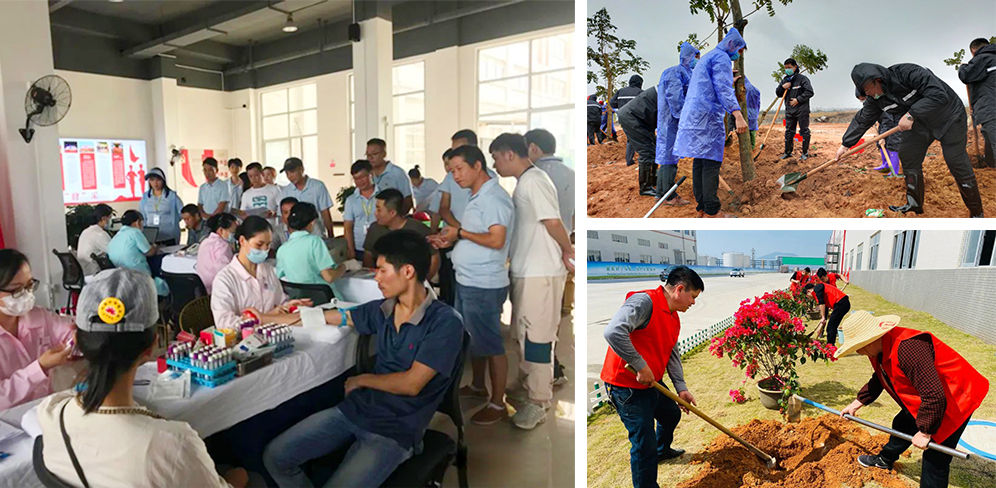 Environment Friendly
Our company strives to recycle renewable resources, save a large number of non-renewable petroleum resources, significantly reduce water and electricity consumption, and lower environmental pollution, so as to help the country achieve the dual carbon goal.